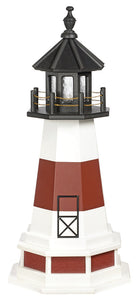 Copy of 2' Montauk Replica Poly Lighthouse
Our poly lighthouses are Amish handcrafted in the USA from virtually maintenance free poly.
Available In Your Choice of Color Combinations
Available in Sizes From 2 Foot to 12 Foot
Optional Lighthouse Base Available
Marine Grade Stainless Steel Fasteners
Minimal Assembly Required
Ships Only to The Continental United States
Ships Directly from Manufacturer
Approx. Ship Time: 2-6 Weeks Depending On Demand, Contact Us For Accurate Ship Time
Colors:
When choosing Lighthouse colors, the Primary Color will be the one which you have the most of on the tower; the Accent/Trim Color will be the one you have less of on the lighthouse tower.
When choosing Lighthouse Base colors, the Primary Color will be the one in the rectangles, the Accent/Trim Color will be the trim on the base.
Advantages of Poly:
Virtually Maintenance Free
Life Expectancy: Several Decades in Most Environments
Does Not Rot or Decay
Does Not Splinter or Crack
Never Needs Painting
UV/Fade Resistant
Termite Proof
Stronger Than Wood
More Durable than Wood
Environmentally Friendly: Made From 100% Recycled Materials
Endures Harsh Environments
Poly color is continuously throughout the material, so in the rare occasion that you do scratch the surface, the color is the same under the surface. Poly is a nonporous surface making it easier to clean.
Lighting Options:
Our lighthouses come equipped with standard electrical accent lighting, a 25-watt bulb, and 6-foot cord which plugs into a standard AC/DC outlet. Several other lighting options are available. When choosing a lighthouse option consider placement of your lighthouse in relation to a power source and proximity to residences.
Standard Electrical Light: Standard light fixture, with 25 watt bulb.
Electrical Revolving Light: This light simulates the effect of a real lighthouse with its continuous beam of bright light revolving 360 degrees. The revolving light operates off a small motor and system of mirrors to give it a beacon effect. Comes with 4 watt bulb, 120 volt, 36 RPM.
X-Large Electrical Revolving Light: Large Strobe Electric Revolving Light Kit fits 8' & 12' lighthouses; this light is NOT designed for 6' or smaller models. This light will most accurately simulate the effect of a real lighthouse with its continuous beam of light revolving 360 degrees. The revolving light is a powerful halogen light in a tough ABS base. It features nylon gears, a durable motor and a stainless steel clamp ring. Great attention-getting characteristics with this 35 Watt Halogen bulb and mirrored revolving backer. Measures Approx. 8" Diameter x 8.5" H, 120 Volt, 0.2 Amperes, 110000 Candelas/Second, 35 Watt Halogen Bulb, 12 RPM, Clear Dome, Visible For 10-12 miles.
Solar Light: This Solar Lighthouse Light Kit fits our 2' - 8' wood & poly lighthouses. This solar kit is equipped with a switch to turn the light off if desired. Comes with a stake to mount the panel on the ground and a bracket to mount the panel on the lighthouse or a nearby structure. Set your lighthouse virtually anywhere it has access to sunlight with no wiring needed. The solar collectors will gather sunlight during the day and the light will shine softly at night. LED Bulb = 3 Volt, 0.5 Watt, 360 Lumens, Working Time: 6-8 hours (battery fully charged), 10+ Feet of Cord Allows Mounting Solar Panel On Nearby Structure.
Additional Base & Lower Tower Window Lighting: You can choose to have the base and lower tower windows and doors cut out and additional interior lighting added for an additional fee. This option is available in both electric and solar models. Please Note this option is only available in 4', 5', 6', 8' and 12' models